Set up your miner
Download CryptoTab Farm mining software
Please click the CryptoTab Farm icon below to install the Miner
Important! The miner can only be installed on a desktop computer or laptop with Windows or macOS. If you download the miner to your mobile device, you'll have to transfer it to your computer.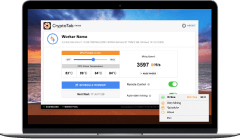 If you already have a 6-digits identifier from the CryptoTam Farm app, you can download miner here and it will be connected to your farm automatically.
Download miner from CryptoTab Farm
Install the program on a computer
Adjust settings for your miner
Start earning bitcoins
You can find more information about CryptoTab Farm here.