Useful Tips
View all
Now you can mine BTC on any available computer
CryptoTab Farm now on macOS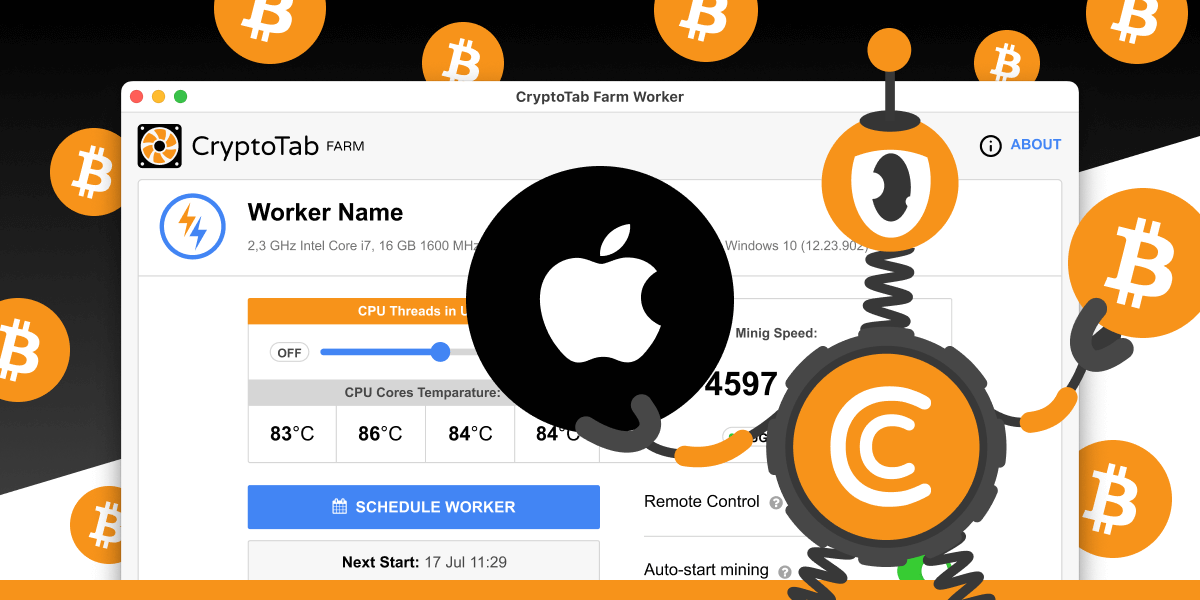 Mark the date, we've got an announcement! From now on CryptoTab Miner software is available on macOS, and that means you're welcome to mine BTC, build up and expand your mining farm with any macOS-based computer.
If you already have a mining network, now any desktop computer — be it macOS or Windows-based one can be engaged in it. If you only plan to develop it, CryptoTab is so far the best way to start. It is a lite and undemanding software with strong potential: working in the background and using the idle power of your computers, CryptoTab allows you to earn BTC in a stable and long-term way.
Turn any macOS computer into an income-generating machine!
Still in doubt? It is no secret that cryptocurrency is the big thing now. So why not try it yourself in a riskless and steady way? Earning your first BTC does not require any specific education, skills, or prior experience. CryptoTab has already proven to over 25 million users that earning long-term income in BTC can be done smoothly and easily. Especially since you can do it on any desktop computer you have.
If you have a macOS computer available, install the CryptoTab miner on it and check out the up-to-date features. A full-fledged intuitive dashboard will help you manage the process most efficiently: keep track of your mining statistics, adjust mining speed, select automatic mining periods, set busy and inactive hours, and many more. Connect other accessible computers to CryptoTab Farm, create mining groups, and control them from your iOS or Android device. Unlimited withdrawals in BTC will be available at any time.
Are you a happy owner of a macOS device or do you know one? Then download CryptoTab miner for mac, join in, and engage others!
START MINING